2022 Psychological and Brain Sciences Newsletter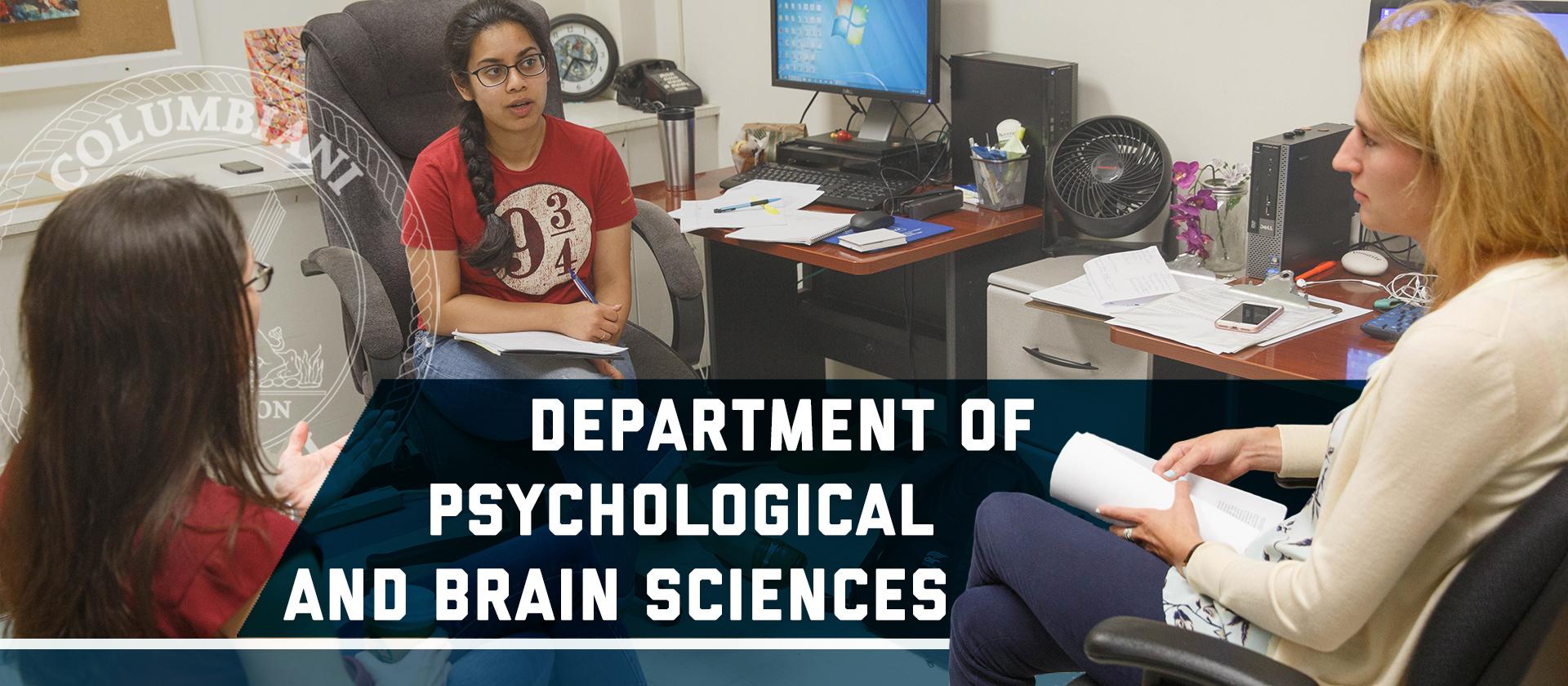 Message from the Chair
Department Spotlights
Department Kudos
Alumni Class Notes
---
Message from the Chair
Greetings to all our alumni from the GW Department of Psychological and Brain Sciences! I hope you will join me in celebrating the various successes that our department members have had over the past year. I am pleased to report that we relocated from Building GG and are now temporarily (for about 5 years) housed in a contemporary LEED Gold building at 2013 H St. NW.
Among this year's highlights, two of GW's three top faculty honors went to faculty in our department: Lisa Bowleg received the Oscar and Shoshana Trachtenberg Prize for Scholarship (Research) and Carol Sigelman received the Oscar and Shoshana Trachtenberg Prize for University Service! We are pleased to welcome Fallon Goodman as a new faculty member in clinical psychology. Our PBS graduate program ranking improved from 33rd to 26th percentile. Our faculty were awarded 14 new grants and our grand total research expenditures for the year was an impressive $2,883,409. Kira Wegner-Clemens, a graduate student in the Cognitive Neuroscience program, received the prestigious F31 predoctoral award from the National Institutes of Health (NIH).
Meanwhile, the Psi Chi National Psychology Honor Society flourished last year, and inducted the most members ever! Our major continues to grow, and more students are engaged in undergraduate research.
We will have some fabulous alumni events scheduled this year, and I hope you have the opportunity to attend one of them and engage with fellow graduates. 
Thank you so much for your support and involvement. Please stay in touch!
Sincerely,
Sarah Shomstein
Chair, Department of Psychological & Brain Sciences
---
Department Spotlights  
With suicide rates skyrocketing among young African Americans, Associate Professor of Clinical Psychology Sherry Molock is leading a team that works with churches to address the crisis in communities. Her project, supported by a $1.5 million grant from the American Foundation for Suicide Prevention, was highlighted in CCAS Spotlight.
Whether in the lab or in the net, psychology major and soccer goalkeeper Justin Grady uses his study of visual cognition to see what others may miss. As a research assistant in Professor of Cognitive Neuroscience Stephen Mitroff's Visual Cognition lab, Grady is testing how the same skills he uses in soccer can inform learning, attention and perception. He was profiled in CCAS Spotlight.
---
Department Kudos
Lisa Bowleg received a T32 award from the National Institute of Mental Health. The Ruth L. Kirschstein National Research Service Award supports grants to institutions to develop or enhance research training opportunities for pre and postdoctoral fellows. She also received a $99,655 grant for research on the stigma surrounding HIV.
Jody Ganiban was awarded a $68,320 grant from NIH to study social ecological assets and mental health among diverse youth.
Christina B. Gee appeared on the "Master's in Psychology" podcast.
Ana Maria del Rio Gonzalez received the 2022 National Institutes of Health Sexual & Gender Minority (SGM) Research Early-Stage Investigator Award, recognizing investigators who have made substantial and outstanding research contributions in areas related to SGM health. She also received a $15,935 grant from NIH to examine intersectional discrimination measures for health disparities research.
Fallon Goodman presented the TEDx talk Why you feel anxious socializing (and what to do about it).
Clinical alum Dr. Mark Heyman recently published the book Diabetes Sucks AND You Can Handle It, a step-by-step managing the emotional challenges of Type 1 Diabetes. Congratulations, Mark! 
Graduate student Rebecca Hoffman received the Richard Walk Dissertation Award for an amount of $1,000. The funds will be used to support participant recruitment for her dissertation titled "Testing Cognitive Dissonance as a Mechanism Behind Compensatory Behaviors."
Sherry Molock published the paper "Mental Health among Marginalized Communities" in the Journal of Diversity Scholarship for Social Change.
Gabriela Rosenblau co-authored a piece in Nature Communications titled "Incorporating social knowledge structures into computational models."
Cognitive neuroscience graduate student Kira Wegner-Clemens received a Ruth L. Kirschstein Predoctoral Individual National Research Service Award from the NIH. This is an extremely competitive and prestigious award, and the first awarded to GW in the past five years.
---
Alumni Class Notes
Jessica Allen, BA '17, completed a 3-year master's degree program in counseling and is currently doing her field placement at the largest high school in Seattle. She looks forward to graduating next year when she can dive into school counseling full time.
Brianna Altman, BA '15, is a post-doctoral research associate at Rutgers University, studying substance use, anxiety and transdiagnostic risk factors.
Jill Awbrey, BA '02, is the writer and lead actress of HELD, a feature film distributed by Magnolia Pictures/Magnet Releasing and streaming on Hulu. Her feature films coming out in 2023 include Nightmare at Precinct 84 and Lifeline.
Alexis Blickman, BA '20, is in her final year of law school at Boston College. Upon graduation and after sitting for the bar, she will work at Prince Lobel Tye!
Ashley Burchell, BA '15, is working in private practice, specializing in clients recovering from trauma, eating disorders and substance abuse. She is in the process of starting her own wellness center to offer holistic healing services.
Jessica Carson, BA '13, used her passion for psychology and entrepreneurship to write a book on the psychology of entrepreneurs titled Wired This Way, and took a role as the head of psychology & education at a tech company called ZenBusiness.
Kayla Cholpan, BA '21, is attending John Jay College of Criminal Justice in New York City, working toward a master's degree in forensic mental health counseling.
Clarissa Coultas, BA '13, got married and moved to Napa, Calif., with her wife. She works as the senior talent management partner for Ambry Genetics (Aliso Viejo, Calif.) where she leads performance management and learning programs.
Andra Davidson, BA '92, is a corporate communications VP turned certified divorce Coach. She works with clients committed to minimizing the impact of divorce for their kids, being a healthy co-parent and showing up as their best self throughout the process.
John Davis, BA '75, shared that after Dr. Rothblatt excited his interest in brains, he obtained his PhD in clinical psychology working as a clinical neuropsychologist in Southern Ontario, and as a professor at McMaster University in Hamilton, Canada.
Ana del Rio Gonzalez, PhD '15, is an associate professor in the Department of Prevention and Community Health at GW's Milken Institute School of Public Health at. She was awarded the Sexual and Gender Minorities Early Stage Investigator Award by the National Institutes of Health.
Jenna Fields, BA '08, MA, MSW, recently marked her sixth year as the California regional director of Sharsheret, the national Jewish breast and ovarian cancer organization.
Vicki Fowler, BA '68, retired from the Department of Psychology and Neurosciences, at the University of North Carolina at Chapel Hill.
Sarah Friedman, PhD '75, is a research professor affiliated with George Washington University's Department of Psychological and Brain Sciences. 
Yael Gatenio, BA '94, is an optometrist and applies her knowledge of psychology with every patient encounter. 
Alisa Hoffman, BA '88, MD '93, is a practicing pediatrician in a suburb of Philadelphia.
Daniela Krukoff, BA '17, is a University of Alaska Anchorage Writing Consultant, Mat-Su Regional Medical Center Emergency Department Scribe and a University of Alaska Anchorage Bachelor of Science in Natural Sciences prospect.
Amanda Maybaum, BA '11, MA '14, opened a consulting practice to provide specialized support to young adults, over involved parents and independence seekers, called Beyond The Books. 
Erin McCormack, BA '14, MD '18, attended medical school at GW and is now in neurosurgery residency in New Orleans, La. 
Tracie (Mims) Sellers, BA '99, earned her doctorate in pharmacy, completed a residency, practiced as a clinical pharmacist for 8 years and is now the supervisor of clinical pharmacy services in a large, teaching hospital in Delaware.
Daniel Newman, BA '02, is a tenured associate professor in the school psychology program at the University of Cincinnati and editor of the Journal of Educational and Psychological Consultation. 
Caitlin Peddicord, BA '08, is the director of outpatient services for the Colorado market with Denver Springs Hospital in 2022. Her department includes a Help for Heroes behavioral health program, serving military, veterans and first responders.
Rebecca Selig, BA '01, recently joined the national nonprofit Fight Colorectal Cancer, as their director of patient education and research. She was previously comprehensive cancer program manager at the Colorado Department of Public Health and Environment.
Heather Staufenberg, BA '98, is the assistant director for the Los Angeles County Sheriff's Department-Psychological Services Bureau.
Lisa Steinberg, BA '78, applied psychology to business as a talent optimization consultant using behavioral assessments for hiring and employee engagement.
Rachel Strohl, PsyD., BA '00, is a senior clinical psychologist at Stress and Anxiety Services of New Jersey. She is on the board of trustees of OCDNJ, a nonprofit organization affiliated with the International Obsessive Compulsive Disorder Foundation.
Allison Tebbe, BA '13, MA Ed & Human Dev. '15, created and runs a one-of-its-kind community integration program for veterans with brain injuries in New Orleans, La.
Lauren Thomas, BA '12, is finishing her doctorate degree in school and child clinical psychology at Ferkauf Graduate School of Psychology in New York City.
Rebecca Turner, PhD '87, has an independent consulting practice offering services to businesses.
Adam Woods, PhD '10, is the associate dean for research in the College of Public Health and Health Professions at the University of Florida.